Welcome all! Its Friday!!!!! That means its time for the Friday Five! I for one am so excited to be hosting this for Lori this week while she is on her well deserved blog break! This week we are doing one of my all time favorite subjects~ ART! I love this area of study because I think that it easily crosses into all the other subjects easily and allows for self expression in ways that other things don't! If you stop here often, you know that we have a well stocked art shelf that is open to the girls all the time and they use it a lot! But here are the five things that I think are the best of the best for us right now!
1. The Artful Parent: This book is amazingly full of simple, easy to put together art projects that you and your kids can do together! What is not to love about that? Plus if you don't want to buy the book, you can always visit her blog for hundreds of ideas as well! I think I have been able to do more with my kids using this book then any of the others I have found! So if you need a little push to get some projects in, this is a great place to start!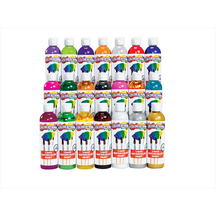 2. Liquid Water Color: This stuff is amazing! It colors things like food coloring does, but the colors are bolder, better. I also can be used as straight paint, and you can do all the normal water color stuff with them! I have used them to die sand, color rice, for salt painting, coloring wooden eggs, and a bunch of other stuff! This is one of those odd items that you don't know how you ever lived without!
3. Art Frames: These are the balck frames that are all over my school room. The front of these open up so you can easily change the piece of art inside! What I love about these is that it give kids a sense that you think that their ideas and creations are worth enough to show the world. They can see that you think that they should grace the wall of your house for everyone to see. Nothing is more special then thinking that your work is special to the people you love! Plus, its instant decoration for the house! 😉
4. Art Lab Books: I love these book because they offer a project for you to do that mimics a famous piece by an artist. It is a great way to incorporate some art study in the fun of creating! These books are especially good to use with some artist three part cards or prints from the artist to keep the study going further. My Bunny really loved the project from this series!
5. Bits and Pieces: I seriously think that there is nothing more exciting then piles of stuff just for you to create with! Now I know that this isn't something that everyone can do, but just having recycled materials, sequins, markers, ribbon, and googly eyes can spark endless fun! Having materials, even just a few, available all the time, is a the best way to encourage kids to think, create, and share their knowledge in art!
So those are my picks for art this week! Now it is your turn! What are your five favorite art resources for kids? I would love to hear about your favorite products, programs, and materials for making art a part of your home!